A game about the struggle to have a conversation while also stuffing your face with food.
You are at an all-you-can-eat hot pot restaurant. You're hungry, and you just want to do nothing but chow down.
But you're here with a friend, and you don't want it seems like you're only here to eat!
Can you manage to keep up a conversation while cooking and filling your belly?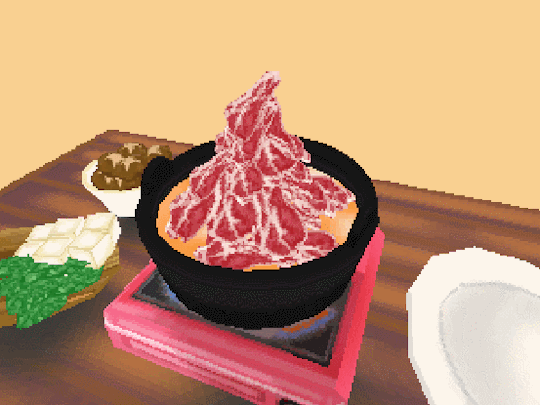 Features
Cook delicious meat, veggies, and tofu in a tasty broth until they're just right!
Multitask your way through three meals! You'll be cooking and eating while keeping up a conversation with your friend. Make sure she never figures out you're really just here for the food…
You get to direct the convo, but make sure you're ready to keep up with your friend's comments – she'll ask you what you thought about what she said later, and if you don't get it right, things could get ~*awkward*~
Controls
WS or Arrow keys to look up and down
Mouse or trackpad (mouse recommended!) to cook / eat